Sunday, August 30, 2009
Serangoon Gardens Hawker Centre
Fong Kee Handmade sliced noodle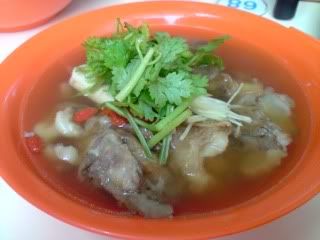 Leng Kee Mutton Soup - with tendon, bone

Curry Chicken Noodle
We had not been to the Serangoon Gardens area lately - reason, being traffic congestion and parking difficulty. Since I am so greedy and thinking about the freshly baked bread and cocktail buns, we headed for lunch on Sunday.
As usual, we waited for 20mins to get a car park lot....thankfully a mere 20mins....!!!
The hawker centre was packed with lunch crowds at 2pm!!
What is good there? The stalls selling western food (esp pork chop is good), Fong Kee handmade noodles, Kway Chap, Roti John, Char Kwey Teow, freshly baked buns & kopis are yummy!!!