Saturday, October 09, 2010
Eating Tulang.....take away (Da Bao) from Beach Road Hawker Centre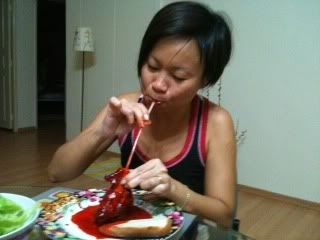 Another alternative to suck the marrow - using a straw!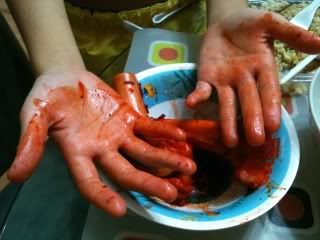 Its definitely "Finger Lickin Good!"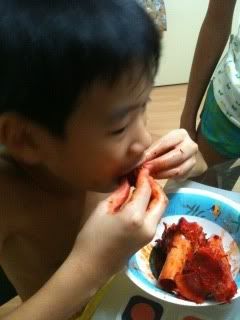 Joshua's enjoying the tulang....its best to eat it @home!
Look @ the tulang - tendon and bones all cleaned up!!!
We love eating Tulang - Tulang means bones in Malay.....the above is mutton tulang, stewed in Mamak spicy tomato sauce.
Some people may say it looks disgusting, embarrassing to eat tulang with your bare hands in public - your mouth will also be plastered with the thick red gravy.....Also, you've gotta really lick and suck off the bone & cartilage!
Every tulang lovers know the basic rule - NEVER EAT TULANG IN WHITE, you'll end up in a red spotty shirt!
We enjoyed eating "roti pranchese (French Loaves)" dipped with the tulang soup.......simply divine!!!